International travellers living outside the EU have the opportunity to claim reimbursement for German VAT.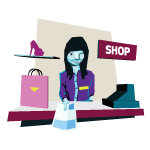 Customers who are entitled to VAT exemption must fill the out tax refund cheque completely and have it signed by the responsible staff member at the shop. You will also receive your invoice as well as a return envelope.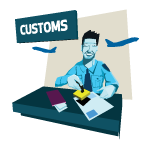 When leaving the EU simply show your purchases, invoices and passport to the customs officers. To confirm the exported goods, the tax refund cheque needs to be stamped by a customs officer.
Bring the tax refund cheque, your passport and bills to a nearby Refund Point and the money will be refunded to your credit card. Cash refunds are also available upon request. As a foreign customer you can also of course send the tax refund cheque and invoice to Global Blue and have the money refunded to your credit card as soon as possible or order a bank cheque.